There are many things to do and see in Port Lincoln depending on your preferences.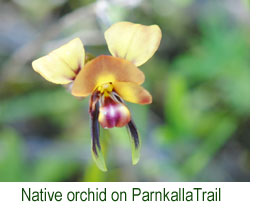 For a quick Town tour, just start down the road from Abeona Cottage at the First Landing Site where our first settlers came ashore in 1839. The first boat was the "Abeona" commanded by Captain Hawson there was also the "Dorset" captained by Captain Bishop, and the "Porter" by Captain Porter.
From there, drive to Town, along the foreshore, where most eating-places and hotels are situated and continue past the silos over the bridge to Kirton Point. You will see the caravan park on your left, turning right will take you to the Marina, Port Lincoln's latest development.
There you will be able to see all the fishing boats and you will find the Leisure Centre, great for a swim, sauna, spa or a workout at the gym.
After that, a drive up to Winters Hill Lookout for a view from the top, you can see as far as Sleaford Bay, great also at night.
If you are eager to be on the water we recommend a tour to the tuna farms with one of the cruise operators. Check the Visitor Information Centre for availability, or for something a bit more exciting you could go with Calypso Star Charter to dive with the Great White Sharks.
Our best kept secrets are our beautiful National Parks. Both Port Lincoln and Coffin Bay National Parks are within half an hour drive from here and make good day trips; also Whalers Way with it's rugged coastline. On the way to Fishery Bay, stop at
Mikkira
to have a look at the only koala colony on Eyre Peninsula this is also a great place for a picnic.
Most of these places can be reached in a normal car but for some 4 wheel drive is needed. Great Australian Bight Safaris conducts 4x4 tours and will take you to the most remote and interesting places, with some tracks along the cliffs and through the sand dunes.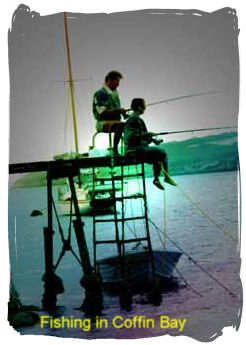 No stay in Port Lincoln is complete without a visit to Glenn Forrest Animal Park at Greenpatch (feed the animals and the parrots) and a drive to Koppio.
The smithy museum in Koppio is worth a visit and on the way back to Port Lincoln look at the Rose Garden especially beautiful when the roses are blooming. The Todd Reservoir will round of a nice day of sightseeing.
In Port Lincoln visit our numerous museums and also have a look at the the life size bronze sculpture of Makybe Diva (3 time Melbourne cup winner) by local world renown sculptor Ken Martin. If looking for a souvenir check out the Gallery Shop in the Civic Centre on the foreshore, most of our local artists are exhibiting there.
If none of this appeal; there of course is always fishing. Hanne is the person to talk to, as she is the fisherman here.
Unfortunately, there is less and less time for fishing because she is also a potter and a painter. If you wish to see some of her work visit her
website
If planning a trip Port Lincoln and looking for a place to stay visit the
Port Lincoln Accommodation
website.